New City Plan Approved for Krueger-Scott Mansion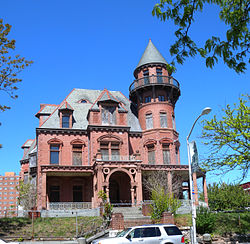 The Krueger-Scott Mansion was built in 1888 by Gottfried Krueger and purchased by Scott in 1958. The mansion served the community in a number of different ways. The first floor was used for "Scott College of Beauty Culture". There was a dentist office, a restaurant and an ice cream parlor in the basement of the home.
Scott was believed to be Newark's first African- American millionaire, a business woman and a civic leader. After Scotts death the mansion became vacant, but things are about to change...
There will be 86 units of market rate and affordable housing, with workspace for residents in a seven-story building. The project will sit behind the mansion, it is estimated to cost $29 million and should be completed in 18 -24 months. We can see the market in Newark turning around big time and we can't wait to see the great changes headed our way!